Dr. Americana – January 10, 2012
We already know the answer to the age-old question, 'How many licks to the center of a tootsie roll, tootsie pop?' It's 3. The owl in the commercial answered it for us. But how many undefended punches to the face before a ref stops a fight? Let's look in on the end of the King Mo vs. Lorenz Larkin fight from Strikeforce last Saturday night.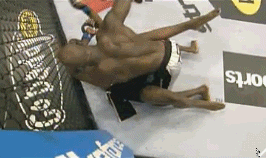 Referee Kim Winslow lets nine bombs connect with the grill of Lorenz Larkin before she finally steps in and calls a halt to the bout. King Mo was pissed after the fight, telling MMA Junkie what he thinks of Winslow.
"I'm going to put it like this: The commission, they need to do something with [Winslow]," Lawal said. "Let her take a fight or something and give her a bad ref."
"Let [Winslow] fight 'Cyborg,' and let's do a late stoppage with her," Lawal said. "I watched her almost get Jan Finney killed by 'Cyborg.' I think maybe the tables need to be turned. Put me in there as a ref, and I'll just do a terrible job like her."
Well, Cyborg has her own problems after testing positive for steroids, but the point is made. Hopefully Larkin will be OK, and Winslow won't get anyone seriously injured in the cage.